"Young Face of Resistance"
– USA Today

Dallas Jessup - a leading voice of the next generation
Dallas Jessup (30), author and founder of the worldwide nonprofit Just Yell Fire, delivers amazing keynote presentations as a Leading Voice of the Next Great Generation. At 14 she produced 1 of 10 most downloaded production length films worldwide, at 15 she launched a nonprofit that has grown into 65 countries, at 17 her book Young Revolutionaries Who Rock was lauded as a Groundbreaking Call to Teen Activism, and at 20 she produced Just Yell Fire: Campus Life, a film focused on empowering college girls to know their rights and stay safe.
A highly rated motivational speaker, Dallas inspires young women to join her on the front lines of world changing actions while giving parents and teachers the tools they need to get their girls involved. She also presents youth empowerment and stay-safe seminars for teens and young women.
"It's a million girl revolution"
CNN
Social Activist | Cause-Based filmmaker

Dallas grew a community service project into the nonprofit Just Yell Fire which has grown into a 1.8 million girl revolution across 65 countries combating violence and abuse against young women and girls.
"She gives girls the power to stand up and fight back... Big results."

People Magazine
Author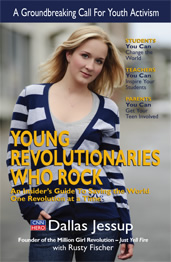 Dallas' new book, Young Revolutionaries Who Rock, An Insider's Guide to Saving the World One Revolution at a Time, is a Groundbreaking Call to Youth Activism. She shares her own and other inspiring stories of 10 high impact teens on the front lines of volunteerism; in a how-to format for the next generation of heroes.

"Do you think today's teens lack drive or don't care enough about the world around them? Dallas Jessup will prove you wrong."

Fox & Friends, Gretchen Carlson
Keynote Speaker & Seminars
Calling All Heroes
(All Ages & Venues)
Dallas tells us about Heroic girls fighting predators Heroic teens taking on social problems & reminds us there's a hero in all of us waiting for a quest or mission. She helps you find your quest and empowers you to change the world.
Custom Keynote for Your Event
Dallas delivers a high impact keynote at parent, teacher, corporate, and association events on a variety of topics with a customized presentation for many occasions. As a leading voice of the next Great Generation she's knowledgeable about college students, the challenges of running an international non profit, world changing motivation, and a host of women's issues including empowerment, education, and rights.
Just Yell Fire Seminar
(Teachers, Coaches, Schools, Girls & Young Women)
CNN Hero & Black belt martial artist Dallas gives girls a Dating Bill of Rights, Stay-safe strategies for real life & some street fighting get-away techniques so a 100 pound girl can bite, eye-gouge, and earslap…out of a rape or abduction situation. Villains beware; Just Yell Fire is putting predators out of business.
Just Yell Fire: Campus Life
Young women in college face a 1 in 3 chance of becoming victims of dating abuse, violence, hate crime, sexual assault, or random violence before graduation. Dallas lets them know the unique dangers they face, tells them how to minimize those dangers, empowers the audience with a Dating Bill of Rights, and shares some street fighting get away strategies for when trouble finds them.
Speaker Bureaus - Speaker Agents - Event Planners
Dallas Jessup works with many speaker bureaus and agents or is pleased to connect directly with meeting or event planners. She travels from her family home in Vancouver, Washington or Nashville, Tennessee where she is a 20 year old senior at Vanderbilt University as a McKelvey Scholar for Social Entrepreneurship. Fees and expenses vary with specific event requirements. Connect with us with details of your event: [hidden email]